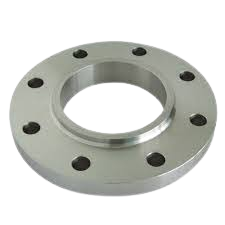 When it comes to piping systems, Lap Joint Flanges play crucial roles in ensuring their integrity and functionality. In this blog post, we will delve into the world of lap joint flanges, examining their purpose, design, and applications. So, let's get started and unravel the basics of this essential piping element.
Lap Joint Flanges
A Van Stone flange, often referred to as a lap joint flange, is a specific kind of flange used to attach pieces of pipe or fittings together. The backing flange and the stub end are its two basic components. The lap joint flanges does not feature a raised face or a sealing surface, in contrast to other flange types.
It is a kind of flange that joins two pieces of pipe or fittings together in plumbing systems. The backing flange and the stub end are its two major parts.
Trimac Piping Solutions is one of the largest Flanges Manufacturers in India.
The Design and Assembly:
A short length of pipe with an outer diameter just a little larger than the pipe it is being connected to is analogous to the stub end of a lap joint flange. The backing flange, on the other hand, has a flat face and bolt holes for attachment, similar to a conventional flange. The stub end is butt-welded to the pipe end after being slid over it.
The stub end and the backing flange are the two primary parts used in the design and assembly of a it.
Function and Benefits:
Lap joint flanges are suited for several applications due to their many benefits. They are excellent for systems requiring repeated assembly and disassembly due to their simplicity in aligning and adjusting the position of the flange, which is one of their main advantages. In comparison to other flange kinds, its simplicity of design also enables lower manufacturing costs. It's crucial to remember that lap joint flanges have restrictions as well.
 They might not be appropriate for applications needing high-pressure sealing because they lack a raised face. To ensure good alignment and prevent interference with neighboring components, the length of the stub end should also be carefully chosen.
Applications:
Lap joint flanges are used in a variety of settings and industries. In places like chemical plants, refineries, and food processing facilities, where quick access for inspection or maintenance is necessary, they are frequently employed in systems. In systems conveying corrosive fluids, lap joint flanges are also used since the lack of a sealing surface lowers the danger of corrosion.
It's crucial to remember that the appropriateness of lap joint flanges for a certain application should be assessed in light of things like pressure ratings, temperature requirements, material compatibility, and industry norms. In order to ensure proper selection and installation of lap joint flanges for particular applications, consulting with engineers or industry specialists is advised.
Considerations and Limitations:
While lap joint flanges have benefits, it's necessary to take into account their drawbacks as well. Their usage in applications requiring high-pressure sealing may be constrained by the lack of a raised face. In addition, it's important to choose the stub end length carefully to guarantee accurate alignment and prevent interference with nearby components.
In connection to the planned use, it is crucial to thoroughly evaluate the specific needs and constraints of lap joint flanges. When deciding if lap joint flanges are appropriate and, if necessary, selecting alternate flange types, consulting with engineers or industry experts might be helpful.
We are a Leading Flange Supplier in India.
We are also
Flanges Manufacturers in Mumbai
Flanges Manufacturers in Chennai
Flanges Manufacturers in Delhi
Flanges Manufacturers in Bangalore
Conclusion:
Lap joint flanges are crucial parts of piping systems because they provide flexibility, simplicity in installation, and cost-efficiency. Since they can be quickly disassembled and reassembled thanks to their distinctive design, they are a common option in industries that need periodic maintenance or inspection. You can decide whether or not lap joint flanges are a good fit for your particular plumbing needs by having a basic understanding of them.